Author: Johanna Hanusch, Online Marketing Manager
Search Engine Optimization (SEO) and Search Engine Advertising (SEA) are known to be the two largest disciplines in the field of Search Engine Marketing (SEM).
But why do the two areas have such a high relevance? If we want to be perceived as a company on the Internet, we arrive Google not over. Every user uses the world's largest search engine 3-4 times a day – and SEO and SEA make a website easier is found.
What is search engine optimization?
The term search engine optimization or SEO (Search Engine Optimization) summarizes all measures that serve to place a website for a search word as high as possible in the results of a search engine.
The ranking of a website can be determined by various SEO sub-areas such as on-page or off-page optimization and technical Adjustments can be influenced.
On-page optimization
In on-page optimization, the website is adapted so that it is ideally matched in terms of content, structure and semantics to the search words for which it is to be placed in the search engine. The design of various parameters such as headers and subheadings, URL naming or page titles exerts an influence on the ranking.
So that a search engine optimizes the content of your website , technical conditions must be regulated. Thereto counts, for example, that search engines can crawl your site unhindered and are guided through the structure via a sitemap. Short loading times, barrier-free availability on different end devices, enrichment of the Codes through metadata and a clear link structure are here important aspects.
Off-page optimization
When it comes to off-page optimization, managers focus rely on external signals that indicate the relevance of the website to the search engine increase. This includes, above all, backlinks of the website to be optimized, that they receive from other websites.
How do search engines work?
Search engines like Google have bots that use web pages with regard to the above-mentioned aspects. Texts are clearly in the Foreground.
How Google weights the individual parameters that determine the Ranking of websites is not clarified in detail. Firm However, it is clear that a complex system of different algorithms evaluated on the basis of over 200 criteria. With the rankings, the Search engine always provides a user with the most relevant results for his query Display. This makes Google the bridge between the customer and his needs as well as the company with its offers.
SEO: Pros and Cons
Search engine traffic has many advantages. So he is to the Example very consistent: When you post on Instagram, this disappeared from the newsfeed of your followers after a maximum of 2 days. If, on the other hand, you rank relatively far ahead in the search engine, you can No one there so quickly displace.
Another advantage is the cost. Apart from the Expenses for your employees incurred in text production, SEO is basically free. Some companies pay website operators to post guest posts and to publish links on their pages.
In addition, you can use Google Analytics and Google Search Console tracks how many people are coming to your page via which keyword have come. Ranking changes and potential new keywords can also You will investigate there.
The advantages of search engine optimization can therefore be summarize as follows:
Long-lasting traffic
Transparent evaluation
The disadvantage of SEO is the high expenditure of time. Google evaluates the website according to text length, relevance and quality. A qualitatively Writing high-quality text can take several days in case of doubt – and even then, those responsible have no guarantee that the text to the top places of the Google ranking.
In addition, it takes a certain amount of time for Google to create a new Page indexed and listed in search results. Again, you have to Plan waiting times. Until you get the first organic visitors via SEO on Getting your website can take months.
Tip: You can make sure that the Google bot, which is responsible for evaluating and indexing a website, analyzes your page faster. To do this, tell Google in Google Search Console that the corresponding page should be crawled again. Experience has shown that this shortens the waiting time.
In summary, SEO has the following disadvantages:
Time exposure
No guarantee of ranking
What is search engine advertising?
The second part of search engine marketing is SEA (Search Engine Advertising). Part of this are advertisements that search engines against payment within their search results in addition to the organic search hits lead. The user is always presented with these displays before the organic ones. Search Engine Result Pages (SERPs) and have a corresponding marking.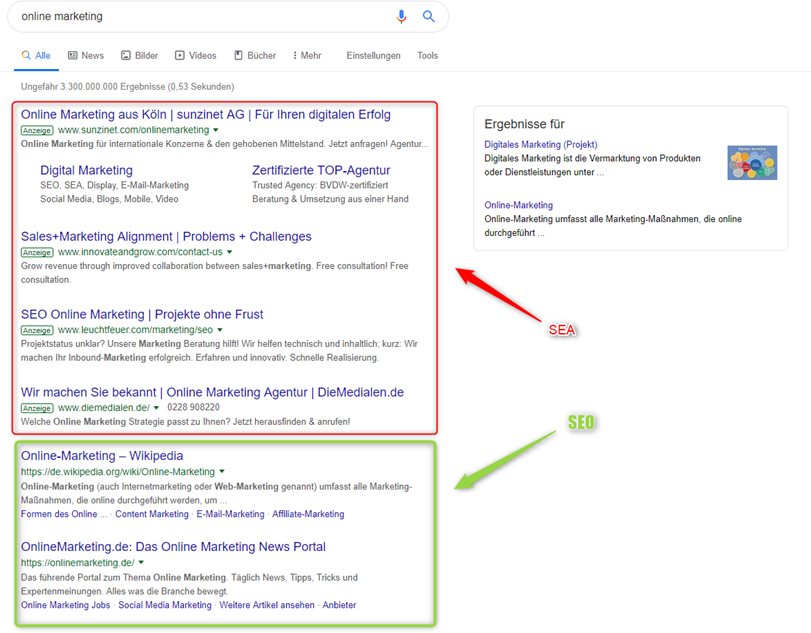 Google Ads, Google's control center for SEA, offers image ads on the Display Network or even video ads on YouTube in addition to the scenario of ads in the search results described above.
How are ads posted?
So that the ads are displayed for suitable search queries, there is an auction system. The auction item is the keyword.
The position of a display depends on depends significantly on the Google Quality Score (QF) and the click price. Factors influencing a high QF include the click-through rate of the Keywords, the click-through rate of the URL, the total click-through rate of all switched Ads, landing page quality, and keyword relevance to the user.
Tip: Even if it sounds very time-consuming at first, create a separate ad group and several ads for each keyword. In this way, you can significantly increase your Quality Score, as you can target your ads precisely and thus highly relevant to the one keyword.
Google Ads
Google Ads is the advertising system with which Users can place their ads on Google.
It also provides users with various tools, who support them in search engine marketing. In the following, I would like to introduce you to Some useful features of the system before:
Smart Campaigns
This tool is primarily aimed at smaller Companies that are not yet much experience in creating Bring ad campaigns on Google. It makes it easier for users to put on of a campaign and reduces the workload to a few minutes.
After users have specified their goals, a Algorithm thanks to artificial intelligence (AI) the management of the campaign. This is then able to place even effective ads and optimize.
Smart Campaigns is a controversial feature. Many Companies have had positive experiences with the tool – however, there are there are also numerous voices stating that Smart Campaigns are not so good Works as hoped. The AI is often unable to display the ads to to play the right target group, which is why the ads are only conditionally can be evaluated and optimized.
Shopping campaigns
For shopping campaigns, the Google Merchant Center, where all information about the respective products can be entered. If the system is linked to Google Ads, the stored data, Shopping ads are automatically displayed. In order to achieve a Shopping campaign to successfully maintain, the product data must be are regularly updated.
YouTube Advertising
Due to the high number of users, the video platform YouTube is an ideal place to advertise. Google Ads can be used to Create ads that appear in search results on YouTube become. In addition, short video ad clips before and during a video that the user wants to look at.
Display advertising
Users are able to advertise banners via Google Ads on different websites. In doing so, they can either view pages, Choose topics or keywords for which you want to place banners. In addition, they can retarget the Display Network – the Playout to users who have already visited the company's website.
Display & Video 360
With this tool, users can design their own campaigns. It consists of 5 modules that support the planning, analysis and optimization of an advertising campaign via Google.
SEA: advantages and disadvantages
SEA is faster than SEO! Within a day (often much faster) an ad is approved and is marked with a high Visibility. As a result, users have access to about data that they can evaluate.
Another advantage of SEA is the direct access to the Target group, because the ads are more targeted. In doing so, Criteria such as region, age, gender or interests play a role.
The advantages of SEA can be summarized as follows:
Measurable figures are quickly available
Precise targeting of the target group
Despite the benefits, SEA can sometimes be difficult. If in doubt, it happens several times that your ads are not approved. Google & Co. have strict guidelines for advertisements – more detailed information on this topic can be found here.
In addition, SEA can be more expensive than SEO in the long run. You can Invest 2 days in a high-quality text in order to achieve long-term Achieve results. However, if you run ads for a long time, this may cost several thousand euros – the actual costs always depend on how high the competition and search volume for a keyword are. This can be checked beforehand in the keyword planner.
The following points therefore have a detrimental effect on SEA:
Strict ad policies
Ongoing costs
With little SEA experience, there is a risk of much Burning money haphazardly
Result
You don't have to choose between SEO or SEA, because successful Search engine marketing is rather a combination of both methods.
SEO is more tedious – in this area can sometimes be good and like 1-2 months pass until your pages rank. However, this brings you Method cheaper and more constant traffic in the long term. SEA, on the other hand, ensures faster results, which entail a corresponding price.
There are very competitive keywords in the SEO space. If you find it difficult to rank here on the first page, I recommend advertising this keyword as an interim solution.
Of course, the same applies the other way around: There are keywords in the ads area that are very expensive. To avoid paying €30 or more for one click, you should focus on ranking high in organic search and thereby generating traffic.
How companies design their search engine management, always depends on the area in which they are active. In the B2C sector are aimed at large target groups and aim to stimulate impulse purchases for To trigger products without much need for explanation. The costs in the ads area can therefore often be higher. On the other hand, revenues come much faster back (e-commerce).
The B2B sector usually has fewer and smaller Target groups with longer decision-making paths. Therefore, SEO in B2B offers here more benefits for companies. Longer decision-making processes mean more time to Build trust – that's why content needs to be available for longer. Overall, there are for both areas and both In the case of disciplines, there is no real right or wrong approach. Try it out and don't just stiffen yourself on one path.