Definition
Direct marketing
Direct marketing refers to any form of advertising that informs about an offer by directly addressing individual customers and interested parties. It is essential that the addressee receives the advertising message directly, for example by post, telephone or e-mail.
Direct marketing is aimed at a limited target group and usually leads to direct sales or contact (response) via a call to action (CTA).
General sub-forms of direct marketing are:
Direct advertising: The goal is sales or brand building.
Dialogue marketing (direct response marketing): The target group is motivated to respond.
Database marketing: The target group is generated from third-party databases, e.g. address databases.
Direct marketing on the Internet
Direct marketing measures on the Internet are often referred to as performance marketing, but this is not very precise. For example, search ads in Google Ads can be assigned to performance marketing (performance is directly measurable in large parts), but the approach is very broad (depending on the campaign settings).
In addition to the direct approach and response option, which already plays a major role in classic direct marketing, online direct marketing has possibilities to track and evaluate the reaction of the addressees in a highly automated manner (tracking). The online variants of direct marketing usually result in direct key performance indicators (KPIs), from which the term performance marketing results.
Difference between direct marketing and performance marketing
Direct marketing and performance marketing have a large overlap. They represent two different perspectives and are therefore sometimes used synonymously.
Direct marketing: The direct customer approach is in the foreground. Direct response elements in many (but not all) cases provide a response to the advertiser, creating measurability. The medium or advertising channel (especially whether online or offline) is not relevant.
Performance Marketing: Measurability is paramount. Direct (personal) customer approach is given, for example, in e-mail marketing, but is not a fundamental requirement. Performance marketing always takes place online.
Examples of direct marketing
Classic direct marketing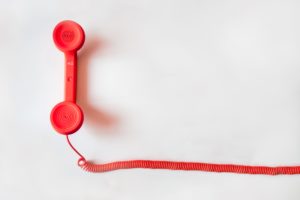 Classic direct marketing consists of putting the possibility of participation and response in the foreground. It is not relevant via which channel the target group is addressed. Therefore, direct marketing can be found in a wide variety of forms and media. Direct marketing campaigns can be recognized by the clear call to action. Calls to action can be:
Call up a specific online action, e.g. free addition for new online shop customers
Calling a specific telephone hotline
Return of a ready-made postcard
Participation in raffles
Agreement of a service
Examples from the everyday life of customers and consumers:
Telephone arrangement of preventive appointments (e.g. reminder service with doctors & dentists)
Callback to make an appointment with customer service (maintenance of the car or heating system)
Individual sending of voucher codes for the current catalogue (in the field of FMCG, tourism)
Addressing potential customers in the supermarket ("Try it…")
Advertising mailings sent to a narrowly defined target group
Performance Marketing
In performance marketing on the Internet, the call-to-action is usually more subtle. Since there is no media break from TV to telephone or from postal advertising to the Internet, the intuitive action, for example a click or a page view, can already be evaluated as a reaction. In this case, one also speaks of (micro) conversions or leads.
In performance marketing, a conscious action such as filling out a response form or completing a purchase is not necessarily necessary. Therefore, the data basis in performance marketing is richer, or at least more direct and more readily available. It can be enlarged almost arbitrarily by intensive tracking, but this is not necessarily an advantage: it can end in a data cloud that is difficult to manage. The art in performance marketing is to identify the important performance indicators and to define the optimal key figure portfolio (KPI set).
Examples of performance marketing:
Search engine advertising (example: Adwords), which generates measurable new customer contacts and sales for the comparable costs.
Content marketing (example: advertorials and company blogs), which is suitable for filling recipient and retargeting lists using SEM, SEO and SMO.
Email marketing that directly invites customers and prospects to purchase or participate in measurable promotions.
Social media marketing that leads to a direct action, a sale or lead.
Affiliate Marketing
Couponing
In principle, performance or direct marketing can also be recognized in online marketing by the call to action.
Demarcation – what direct marketing is not…
Direct and performance marketing is the absolute opposite of Media & Press Relations (PR) and Brand Marketing (brand building).
Direct marketing is about the direct approach by the advertiser and the availability of measurable goals.
Non-direct marketing examples:
Direct sales / turnover of products
New customer acquisition
Newsletter Subscriptions
Catalogue orders
Follower acquisition
Social Media Likes
Appointment Requests
Callback requests
Chat contacts
etc.
Due to the measurability of input and output (in terms of ROI) in direct marketing, it is relatively easy to set up and optimize economic campaigns. Not least because of this, performance marketing plays a major role in online marketing in the startup economy and the growth-driven culture on the web.
Online direct marketing is particularly relevant for scalable business models and in the area of growth hacking, where economies of scale are exploited particularly efficiently.
In contrast, press work, media relations and brand building are not about measurable goals, but about:
Reputation
Brand
Brand Image
Such "soft targets" also serve the revenue and growth of a company, but they only contribute indirectly to all channels. In this case, determining an appropriate budget is primarily a question of the experience of the marketing managers and the possibilities of the company.