Influencer Marketing Definition
Influencer marketing aims to have products and brands presented by influencers on the Internet. In the field of online marketing, influencer marketing is closely related to social media marketing, podcasting and video blogging, because these channels are primarily used by influencers. From a marketer's point of view, influencer marketing is interesting as brand marketing and also in the field of online recruiting. Influencers have medium to large reach, especially in younger and consumer-oriented target groups.
Types of influencers
There are essentially two different types of influencers: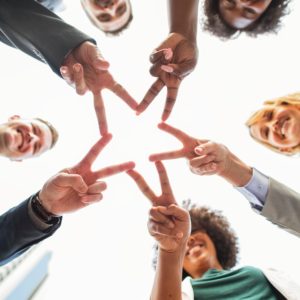 Notable people
"Celebrities" achieve their attention and notoriety in the mainstream media due to a career or an extraordinary personal situation. Prominent influencers are therefore known beyond social media, become interesting for brands as advertising partners and then act as influencers. Examples are athletes, actors and celebrities. They not only reach their online target groups, but are also exciting for advertising companies because of their cross-media presence.
Native influencers
If influencers are perceived as such primarily because of their reach in social media, this is referred to as "native influencers", i.e. original influencers. Originally, they were mainly active in youth culture and in a young, consumer-oriented adult target group. Due to the progressive acceptance of YouTube even in (aging) target groups and as a TV replacement, YouTubers from other target groups are also trying their hand at influencer marketing.
Development of the influencer marketing trend
Influencer Marketing
before 2010: Occasionally, the demand for influencer marketing arose worldwide
since 2015: Influencer marketing established itself in professional circles, professionalization began as an online marketing discipline
since 2016: Boom or hype of influencer marketing begins
(Source: Google Trends)
From the course of attention, which still increases linearly, one can derive the phase of influencer marketing in the hype cycle. Influencer marketing is booming. This means that it is currently greatly overvalued (as of 2018). The prices for influencer marketing are high, the expectations are high and the market participants (influencers, agencies, advertisers) are increasing.
For whom is influencer marketing worthwhile?
In principle, influencer marketing is interesting for all companies to which one of the following points applies:
Brands should become better known in the influencer's target group.
Products (mostly new) will be presented.
Promotions and offers should be advertised at short notice.
The company wants to build a positive image as an employer.
If one of the points applies, then it may be worthwhile to seek contact with influencers directly or via an influencer agency. Depending on the budget and target group, it may be advisable to orient yourself towards micro-influencers (from 30,000 followers), so that the costs remain manageable and if successful, such a campaign can be easily adjusted and scaled.
Tip: Look for influencers who grow with them. In this way, prices remain moderate and the chances are good to gain a lasting brand ambassador.